A tip of the hat to windows CLI; whoami?
My IT career started in 1999-2000. I went back to school, obtained my MCSE on Server 2003, all while managing a full time job in a different industry.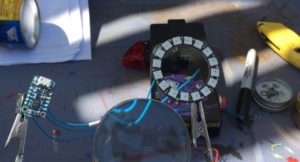 In 2000, I started my IT career at ACCENT Marketing in Kansas City. I spent 13 years at ACCENT, with the last 6 years progressing to various IT Director roles. I managed Contact Center IT, Service Desk, Infrastructure (Server / Storage),  Voice Infrastructure, and Network Infrastructure. During my tenure, we evolved from a fairly immature "startup" style department to a robust, ITIL governed solid infrastructure department and team. Accent was purchased by Startek in 2015.
In 2013, I moved to a System Administrator position at Ericsson in Kansas City, specifically to work on large enterprise VMware, HP BladeSystems and Windows environments. In this role, I supported large infrastructure environments at Sprint, T-Mobile and other North American clients. It was my specific goal to gain large enterprise experience and focus on VMware, which was my favorite technology. I gained my VCP-DCV and ITIL certifications while at Ericsson.
After moving to the Denver area in 2017, I accepted a position as a system administrator at a local electric utility. VMware, HP server hardware including c7000 BladeSystems, and Windows Server again were the technologies that were appealing.
On the VMware side, I am familiar with and have implemented and used; Site Recovery Manager, Update Manager, vRealize Operations Manager, vRealize Cloud for Business, vRealize Log Insight, etc., etc. While at Ericsson, I also deployed multiple SQL clusters on MSCS on VMware 6.0 that were high performance, resilient, zero downtime platforms. I'm familiar with all facets of Windows management through Server 2016. I have some familiarity with Amazon Web Services, and the Amazon Storage Gateway products.
On the tools side, I have implemented, used, and administered products like but not limited to; Dell KACE Service Desk, Manage Engine Service Desk, Airwatch, Netwrix, SCCM, SCOM, Manage Engine Exchange Reporter Plus, Nexpose Insight IDM, and Insight VM, Sophos Endpoint, Sophos Intercept X, Kapersky, WSUS, WDS, Observe IT, Citrix, and more.
I am always interested in opportunities that would present new challenges in the trifecta I love; HP Hardware (BladeSystems), VMware, and Microsoft Windows Server. If you want to reach me, please use the form below.